This post brought to you by Frito-Lay @ Dollar General. All opinions are 100% mine.
Do you love snacks?
Oh my gosh, what a stupid question. Of course you love snacks!
I've been at home pretty much every day since my surgery and I've learned that snacks are the true beauty of life. That, and daytime talk shows.
And what about saving money? How do you feel about that?
I know! It's awesome, right?!
And if you're like me and had to dip into your 401(k) account to support your daughter's shoe habit this Christmas, then you realize how important it is to save money, especially this time of year. Those boots aren't going to buy themselves, you know.
So that's why I was so excited to hear that my two favorite things - snacks and saving money - were teaming up this holiday season. Yay! Merry Christmas to me!
Stop by Dollar General today, because when you buy four Frito Lay snack products, you get one for FREE. That's free, as in, nada, zero, zilch,
shoes
. Boom.
Learn all about this fabulous deal online here:
Frito-Lay @ Dollar General
.
I was especially excited to hear about this because I really like Doritos. In fact, I think it could be love. But I figure, why limit myself to
just
Doritos? So I'm going to pick up some Classic chips, Barbeque chips, Fritos and Cheetos, too. A girl needs choices.
My son Drew has a favorite Frito Lay snack. Can you guess what it is? Does that adorable Cheetos face give it away?
(Spoiler Alert: It's Cheetos.)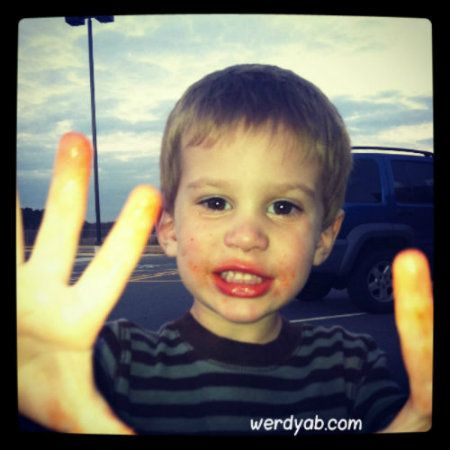 Hey, what's
your
favorite Frito-Lay snack? Leave a comment below and join the snack smack.
So remember to stop by Dollar General and stock up on your favorite Frito-Lay snacks. See you there!
For a limited time only in participating Dollar General stores, buy 4 Frito-Lay salty snacks, priced $0.50, and get 1 Free. Offer limited to qualifying snacks purchased in a single transaction, while supplies last. Plus any applicable sales tax. Offer ends 12/30/12. See participating stores for details.