After taking my daughter to school, my three-year-old son, Drew, mumbled something from the backseat: "Brownies."
Huh? What'd you say? I couldn't hear you.
Brownies.
Oh, brownies... Well, not for breakfast, baby.
BROWNIES. NOW.
Is there a way to ask that nicely, like, 'Mama, may I please have some brownies?'
NO! BROWNIES! NOW!
And because I really care about nutrition and manners, I immediately pulled into the Kroger to buy this kid some brownies.
Okay, I care, honest to goodness, but not first thing in the morning when I'm going on very little sleep and less than very little coffee. Brownies for breakfast? Well, sure. You want to wash them down with a Mike's Hard Lemonade? Okay, fine, whatever. Oh, and here's some matches for you to play with if you get bored.
(But I would never admit any of that on my blog.)
Do you know what's the best thing about the Kroger near my office? It has a Starbucks in it. I bet that's exactly how Joan Rivers feels about having a plastic surgeon's office down the street from the QVC studio. I could get my daily coffee fix and Drew's brownies at Starbucks. Two for one! Boom.
Luckily, there was only one person in line when we walked in because Drew was having one of those mornings. He couldn't stand still, and he was equally dividing his time between crying for no reason and laughing hysterically.


I swear, some days he is sooooooo three-years-old.
By the time I ordered, there were four people in line behind me.
And speaking of my behind (ahem), this was when Drew started slapping my butt like he was Charlie Sheen at a bachelor party. So I said, "Drew, stop!" and I nervously chuckled, looking back at the people in line behind us.
And, yes, of course they were watching.
Then I felt Drew's little hand on my badonkadonk again, but this time, he was rubbing it in a circular motion like he expected a genie to pop out. It was a "wax on, wax off" that would make Mr. Miyagi cry.
What was going on with this kid today? Seriously, I've felt less violated by TSA.
Now, for this next part, I can't figure out exactly how it happened. Logistically, it doesn't make any sense, so you'll just have to take a leap of faith with me here: I quickly reached back to grab Drew's hand and somehow jerked his head into the counter. BAM! It looked just like a maneuver that Chuck Norris would do before he had his coffee.
Drew immediately started screaming. I scooped him up and kissed his little head. I wanted to say, "I'm so sorry, baby. You can inappropriately rub my butt in public ANY TIME YOU WANT. How 'bout a pony? You want a pony?" But instead, I just silently wished that he would quit screaming like any other child abuser would.
Drew shouted through the tears, "I'm sorry, Mama. I won't touch your butt anymore! Please don't hurt my head again!"
OH MY GOSH. Can this get any worse? And there for a moment, nobody assumed I did that on purpose.
I could feel their judgmental eyes peering through me like laser beams. I almost said, "Yes, I agree that Social Services needs to get involved. Look (taking iPhone out of purse), I'll even make the call for you." But instead, I just silently wished that they would quit staring like any other child abuser would.
A Starbucks employee came out from behind the counter with two lollipops in her hand. She said to Drew, "I'm sorry that you got hurt, honey. (Evil eye toward me) Which one do you want? Red or blue?"
Two points for the little people! Nothin' but net!
She didn't ask me if I was cool with my kid having a lollipop at 7:30 in the morning. Of course, I was the same mother who was there buying brownies for breakfast while body slamming him into the counter, so.... the bar was set pretty low.
I've never wanted to run away so bad in my life. The only reason that I didn't was because I thought I'd look more guilty if I did. I'm pretty sure that one of them spit in my drink. Can't say I blame them, though. Besides, I've been trying to cut down on the cream anyway.
Thanks a latte, Drew.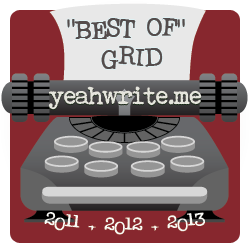 Linking up with:
Yeah Write
. Why? Because it's awesome.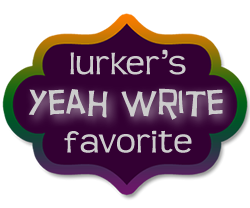 This week goes to Werdyab's fateful visit to Starbucks
. In A Latte of Embarrassment, Amanda's son demands brownies for breakfast. While in line to order, he fondles her enough to make a
TIME
magazine cover mom blush, loudly begs her stop hurting him after an accidental head slam and takes candy from a stranger. All this and silent judgement from those in line behind her, too? Makes for a perfect morning and a hilarious post. Amanda's delivery is a zippy, fun read that proves that even when you give little kids exactly what they want, they can't resist dabbling in public humiliation.
Congrats, Amanda, on the win.