Summer break is just around the corner. Many Moms will start their countdown to sleeping in, hanging out by the pool and spending quality time with their children. But me? I will start my countdown to beginning another week just like the one before it.
We will still be getting up at 6:30 AM. We'll still be rushing out the door as I hand my kids a granola bar to eat for breakfast. And then I'll drive them to Summer Camp where they'll be crammed into a room full of other kids whose Moms also don't love them. (Sorry, that's the Mommy Guilt talking.)
And, sure - they will enjoy the occasional field trip to the zoo or aquarium to make me feel better, but mostly, they will just read or color or play video games eight hours a day.
I remember how wonderful Summers were when I was a kid. We baked cookies at 3 AM, slept until noon, and spent the rest of our time swimming or playing at the park. Summer was awesome!
But I don't think it feels any different for my kids, and I feel awful about that. So that's when my guilt kicks into high-gear and I start eating cookie dough straight out of the refrigerator.
Social media has only amplified the problem.
Here's an example of the Facebook statuses that I'll see next week:
"Spending all day long by the pool!"
"Loving this time with my kiddos!"
"Every day is Saturday at our house!"
I bet Instragram will have to temporarily shut down from the millions of people trying to upload a photo of their feet with a pool in the background - but don't worry - one sepia tone and your's will look
completely different.
Pinterest will be packed full of pins like "25 Things To Keep Kids Busy" or "Fun Summer Crafts". And even though none of us
are actually going to do these things, I want to pin them anyway.
The venting tweets will also begin next week:
"It's the third day of Summer and already my kids are bored!"
"I can't believe that my kids are still asleep."
"My kids are so lazy."
My iPhone will become a quiet reminder of what I'm missing because I work.
Do you know what day is Saturday at my house? Saturday. That's it. Just one day. And my Saturday is usually filled with things that kids love like scrubbing floors or folding laundry. Maybe even an occasional run to the grocery store.
My Instagram photos will be of my children posing in front of their Summer Camp building. There won't be any bare feet or gorgeous pools in the background, but I'll try to capture that big, green dumpster if I can.
I'll probably be pinning things like "25 Ways to Deal with Mommy Guilt" or "Tips for Working Mothers", or maybe I'll just skip those and go straight to the "Best Cocktails" pin.
I won't have anything to say on Twitter, so I'll just have to rely on retweets from Conan O'Brien or Dane Cook to fill my page.
And while your children are driving you crazy, my children will be driving somebody else crazy. I don't get to be annoyed with them for begging to go bowling. I don't get to yell at them for being lazy. I don't get to complain that, no matter how much I pick up, I just can't keep the house clean when the kids are at home.
About this time of year, I always want to quit my job, or at least go back in time to when a young, skinny, 20-year-old me decided that an Early Childhood Education Degree was a bad idea and slap the stupid out of her.
But yesterday, I saw the sign. (Did that make you think about Ace of Base? No? Just me?)
I used my lunch break to go to Bailey's school and look at the 5th grade Social Studies projects. They were on-display in the media center, which I still call the "library" because I'm so old school (literally).
I walked into the
library
media center and saw a group of Moms who were busy organizing materials for various teachers.
First off, let's talk about my private detective skills for a minute, shall we? How do you like them apples? I've learned that if you turn the flash off and pretend to be checking-in on Facebook, you can totally snag a photo without anybody knowing that you took it, probably.
I'm sure you can imagine the conversation that was going on here. It was a paper sorting freenzy, y'all. I think I saw the speed barrier broken at least twice, and if organizing worksheets was an Olympic Event, there would have been more gold in that room than on
Nelly's teeth
. I was so impressed with their hard work as
volunteers
.
I watched them for a couple of minutes. It got a little snarky. ("I thought you said the multiplication sheet went on top?!"... "Uhmmm, no, I said the
bottom
.") It got a little stressful. ("Five minutes left, ladies! Five minutes left!") And they were making a huge sacrifice of their time. ("As soon as we're done here, I've got to go to Mrs. Smith's room and help her set up for the party.")
These Moms were busting their butts - helping somebody else do their job - and probably receiving very little appreciation in return. That's exactly like a real job - throw in a pair of uncomfortable shoes and some crappy coffee and you've got a side-by-side perfect match.
Except for one thing - these ladies were paid NOTHING - unless, of course, you count the currency of a 5th grader rolling her eyes and whispering, "Ugh. My Mom is sooooooo embarrassing."
But guess what? I get a free pass on all that crap.
Nobody bothers asking me if I can sort multiplication worksheets tomorrow because they already know what I'm going to say: "Awwww! Sorry! I have to work."
And there's more.
If my children wear wrinkled clothes to school or if I forget to put lunch money in their account, I'm forgiven. The teacher just sighs and thinks to herself, 'Poor kid. You know, that's what happens when your mother
works
.'
Charlotte's web can say, "Forget Wilbur and SAVE THIS HOUSE" in the corner of my living room and it's totally fine
because I work
.
And if my family wants a warm, delicious meal on the table at 6 o'clock - that's fine, too - because Dominos delivers
and I work
.
In that moment, I was reminded that being a stay-at-home-Mom is a really hard job. One that never ends, one that doesn't get enough respect, and one that I probably couldn't handle.
I might not be starting my ideal summer vacation next week, but I'm not stapling worksheets together, either. I guess it all balances out in the end.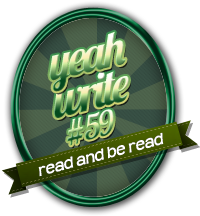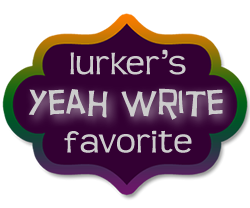 Lurker's favorite by our new lurking judge Kristin W of That Unique* Weblog
I chose Amanda of Werdyab's post
Summer Guilt of a Working Mom
. As a mostly
SAHM
, I was ready to put up my dukes and cock an eyebrow at her envy of the summer days of leisure. In the end, however, she pulled off an authentic appreciation of a different lifestyle while remaining confident in her own.
I also liked how Amanda combined the envy of moms who get to be at home with their kids with her relief that she won't be. She writes, "And while your children are driving you crazy, my children will be driving somebody else crazy. I don't get to be annoyed with them for begging to go bowling. I don't get to yell at them for being lazy. And I don't get to complain that, no matter how hard I work, I just can't keep the house clean when the kids are at home."
These days, it's encouraging to see a parent who genuinely wants something different acknowledging that the greener grass we envy actually takes a lot of maintenance on all sides. And who can resist an Ace of Base reference followed by a Charlotte's Web adaptation?
Congrats, Amanda, on the win and thanks, Kristin, for volunteering to be one of our weekly lurkers!
Lurker's fave by mystery lurkers Sisterhood of the Sensible Moms
Ellen: Guilt, especially mommy guilt, comes in all flavors. Amanda of Werdyab shared hers with us in a way that was poignant, honest, and still managed to make us laugh.
Erin: She lets us all off the hook. It was real in a way that we like here in The Sisterhood. It made us want to invite her over for some of those cocktails she'll be collecting on Pinterest.
Ellen: We give her a cheer for her sensibility. She highlighted that we are all just doing what we do and trying to find balance while doing it.
Erin: It was warm, funny, and darn good writing,
Ellen: Her mad detective skills and Ace of Base reference put this one over the top.
Congrats, Amanda, on the double-lurker win and on the top five finish! Thanks, Erin and Ellen,
for the pick.