I went to Subway for lunch.
After ordering my sandwich, I handed my debit card to the young cashier. He was probably 18 or 19-years-old, and on most days, I bet he feels like a total grown-up. But to me, he looked more like a baby who just quit sucking his thumb and gave up his wubbie, like, yesterday.
He said, "You look good..."
Uhmmm,
what
? I'm sorry, sonny, that's my bad ear. Did you say
I look good
? Well, which one are ya, son? Crazy or perverted?
Either way,
bless your heart
.
But don't worry - this isn't a story about how a young man with poor vision said something flattering to me. BECAUSE THAT STORY WOULD BE BORING. And 9.9987625 times out of 10, a total bold-faced lie.
No, this is a story about what not to do.
Because where he should have put a period in his sentence, he put
" for your age"
instead.
Please allow me to rewind the tape.
Rerrararrrra... That's supposed to be the sound of a tape rewinding, by the way - even though it reads more like a cat fighting over some food thrown out behind a restaurant.
Oh, and if it may please the court, I would like to present Exhibit A: the sound a tape rewinding. As in, the non-digital recording of something. Hellooooo?! Is there any doubt that I'm too old to be attractive to that crazy, blind, perverted Subway kid? I didn't think so.
So here's the playback: "You look good...
for your age
."
Translation? You look slightly better than most of the old hags who come in here.
Uhmmm, thanks, I guess?
As if the poorly drawn cartoons weren't a dead giveaway, this photo is a dramatic reenactment. I couldn't risk taking a pic with my phone and him thinking that I was posting it on the Internet. ONLY A CRAZY PERSON WOULD DO THAT.
Now back to my story.
Ahem
.
Listen, son, I'm old enough to have given birth to you. But since I didn't, please allow me to school you on something about women.
There are certain things you should never talk about:
Like, our weight.
Those little wrinkles around the corners of our eyes.
Why
Fifty Shades of Grey
is the best piece of literature ever written.
How much we liked the
High School Musical
movies.
How we think
Call Me Maybe
is the best song on the radio.
Why we watched
Magic Mik
e for the articles.
And never ever, under any circumstances, refer to our age for any reason.
See, age is a funny thing for women.
When we're young, we actually want to be older so we'll be respected and responsible. But when we're older, we realize that we aren't necessarily any more respected or responsible than when we were young.
Instead, we look wrinkled, gravity isn't our friend, and it takes us a week to recover from taking our kids to Six Flags. It's the ultimate buzz-kill.
So, to the young Subway cashier: Please learn to put a period where it belongs in your sentence. It will really help you out with women, you know, once you're old enough to date. And please, save your compliments for girls your own age who don't want to pick you up by your ear and ask you if you kiss your mother with that mouth.
And when in doubt, my age is always 29.
Now give me my damn sandwich.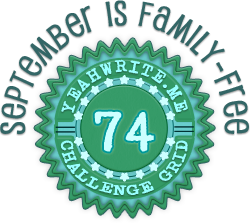 I'm linking up with Yeah Write.
Why? BECAUSE IT'S AWESOME.