"Amanda, a bunch of people from work are going out tonight. Do you want to go?"
"But wouldn't that be weird since I don't work there?"
"Nah. You'll be fine."
"Okay, sure. Why not?"
"Good. Hey, is it okay if Brian from Projects rides down with us?"
I don't remember that last sentence feeling important to me at the time. It sounded like any other sentence in any other conversation between two friends. I didn't hear one single angel singing or anything.
Laura opened her apartment door and welcomed Brian inside, so I walked into the living room to meet him.
Hubba, hubba.
Remember the lack of angels singing before? Well, they were certainly making up for it now. The Heavenly choir was so loud that I could barely hear him introduce himself.
So, what's the best way to impress a handsome stranger? Say something stupid, of course!
"Hey, I like that shirt. It takes a real man to wear pink."
Really, Amanda? That was the best you could do? Awesome. Now I see why you're still single.
But somehow, that
complisult
worked. Yay! Brian and I laughed and talked the entire night.
We took him back to his car about two o'clock in the morning. Three-hours later, he sent me a Myspace email (Oh, yeah. I said it.) and then he left flowers on my office doorstep.
I asked him,
"What were you doing in-between?"
"What do you mean?"
"You know, between when we dropped you off and when you sent the email?"
"Oh... Proofreading."
Forget the flowers.
You had me at proper grammar
.
Brian and I had been dating for about two-weeks when he played a Coldplay song for me called
Green Eyes
. Four-minutes later, it became known as "our song".
Some people made fun of us for establishing our song as if we were fifteen-years-old. Some people made fun of us for the serious nature of the lyrics. Some people made fun of us for being so confident in a relationship that was so new.
In short, people really made fun of us. A lot.
But that song said everything we wanted to say.
We both came into this relationship carrying a burden of romantic failures. But when we talked to each other, the load slowly disappeared as if it was never there in the first place.
Green Eyes
will always be the soundtrack to my heart. When I hear the first A chord, I feel butterflies swooning in a younger, skinnier me's stomach. And when I look at Brian today, I still feel those same butterflies.
Through times of happiness and sorrow, through
weddings
and
reweddings
, through raising one child together and welcoming another into this world, those lyrics remain true.
I still come to him with a heavy load. His words still release me from it.
That Chris Martin sure got something right. And, thank God, so did I.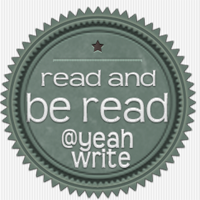 Linking up with
Yeah Write
. Why? Because it's awesome!
Be sure to check out all the summer series submissions this week!
Hold up. "Summer series submissions"? Three cheers for alliteration!